Headlamp autocorrector Pajero 4. The headlight corrector light is on.
If your Pajero 4 is equipped with xenon headlights by the manufacturer, then sooner or later you will encounter a problem in the system of automatic headlight adjustment. And this will happen according to our statistics, when the age of your Pajero exceeds seven years. And you have a headlight corrector bulb on your dashboard.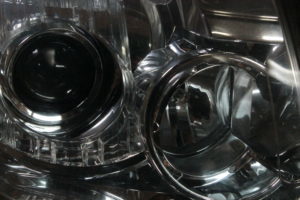 Evidence of a malfunction in the headlamp level adjustment system will be the sudden appearance on the instrument panel of a yellow symbol with the contour of the dipped-beam headlamp. This is a headlight corrector light bulb as it is called in "the people".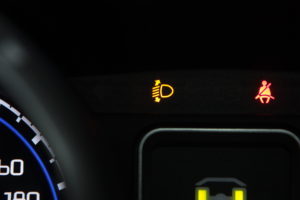 When the ignition is turned on, this lamp should light up thereby indicating the presence of an automatic correction system on your Pajero 4. But immediately after starting the engine or a little earlier, it should go out. Thereby informing the driver that the system is in good condition. But when the Headlight Corrector Lamp Pajero 4 lights up when the engine is running, yes on the move… This means that without repair, and at least without adjusting the system of automatic headlight corrector, you can not do.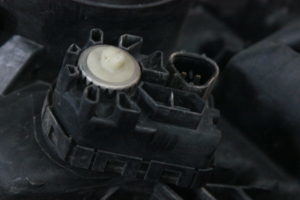 It would seem, at first glance, nothing serious. The system is not large and it is responsible only for automatic adjustment. More precisely for the level of low beam, and even more precisely for its adjustment when changing the position of the car body relative to the road. For example: The system quickly lowers the headlight reflectors when hitting an obstacle. This was done to minimize the effect of blinding drivers of the oncoming traffic. Conversely, when lowering the "nose" of the Pajero 4, the system will raise a beam of light for better illumination of the road. The system is generally not bad and useful. But there are several weaknesses in it, or rather the design solutions of Mitsubishi engineers …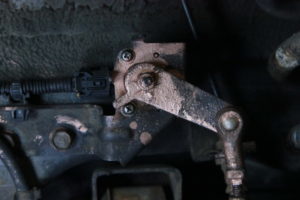 To determine the position of the body of your Pajero 4 relative to the road, they chose sensors with mechanical controls. By the way, they, Mitsubishi Engineers are not alone. Both Toyota and Land Rover suffer from the same decisions.
We will quickly put in order the system of auto-correction of headlights Pajero 4
And now, as the years pass, in Pajero 4, mechanical connections begin to suffer. And they suffer to such an extent that they break off from the body level sensors and from suspension parts.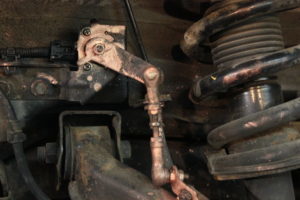 Often the sensors and actuators themselves fail. The wire part of the system is also subject to corrosion damage.   The answer of your Pajero 4 to all this will be a burning headlight corrector light bulb! But the difficulty in repairing the system of automatic adjustment of the level of headlights is not only the high cost of parts to be replaced, but also the inability of many services and workshops to correctly diagnose the malfunction! When diagnosing with multi-brand scanners, this is simply impossible to do! So they drive around the expanses of the "blue-eyed" Pajero 4 with wired sensors. Blinding each other to the "lying policemen". KONTAKYOU