The whistle of the Pajero belt on all generations.
Belt whistle. Symptoms.
Suvs Mitsubishi Pajero second third and fourth generations, famous for the presence of small "sores".One of them is the Whistle belt Pajero. This sound regularly coming from under the hood of your car resembles the piercing screech of a young pig. Its drive belts are sliding (slipping) against the iron pulleys of the engine attachments.  Usually, the situation with the whistle (squeaking) of the drive belts in the Pajero with diesel engines of 4m40 and 4m41 is aggravated in wet and cold weather.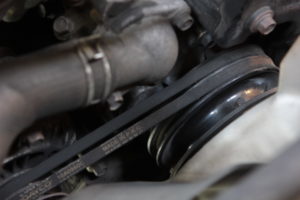 It would seem that what is the problem? The whistle of the belt appears when the belt is stretched. Of course, you need his facelift (not to be confused with a facelift). In the worst case, replacement with a new one. But not everything is so simple in the Mitsubishi Pajero! Usually, having eliminated the extraneous whistle of the drive belt by tightening, the owner of the Pajero in just a few days begins to notice the painfully familiar sound coming from under the hood of his pet in the morning. The whistle of the Pajero belt is back! As a rule, the replacement of the generator belt does not save for a long time. By the way, in a Pajero with diesel engines, there are three of them, two alternator belts and one air conditioning belt.
We are guaranteed within a few hours, eliminate the whistle of the Pajero belt!
The whistle of The Pajero belts. Methods of struggle.
Whistle in most cases the belts of the generator but not an exception and the belt of the air conditioner compressor. At first, the owners of the Pajero several times change the manufacturers of belts from good to very good. Then they change car services, hoping to find a "Great Goodwin" capable of ridding their Pajero of an unpleasant squeak. After that, they pull the belts, they tear in revenge. They don't hold up, the straps squeak even worse, and sometimes they jump off! The result is known. Hello engine overheating and no battery charging! On the car not that go further, even the engine can not be started! In general, the owners have fun with their Pajero to the fullest. The most stubborn owners go so far as to replace the drive pulley of the crankshaft and the pulleys of the generator and pump. All in vain…  The straps are still squeaking. Eventually, the owners despair and try to ignore the belt whistle in the Pajero. Some succeed, some not immediately…  It's painfully disgusting this squeak.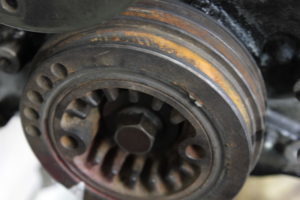 We are guaranteed, within a few hours, to eliminate the whistle of the Pajero belt, whether it is the whistle of the alternator belt or the squeak of the air conditioner belt. And you will forget for many months that your Pajero once whistled the drive belts. Yes, it is possible and inexpensive.
Make an appointment to repair your Pajero
To quickly get rid of this ailment of your Pajero. Use any of the convenient options for you to contact us. We will try as soon as possible to make an appointment for your SUV and eliminate the problem that bothers you. Use any convenient method of communication for you: Mob.A1 +375296289915 Megafon +79206621612 Viber +375296289915 WhatsApp +375296289915
Typical Pajero malfunctions
For about two decades, we have been servicing and repairing Pajero SUVs. The whistle of the Pajero belt is not the only malfunction that we eliminate. Thus, during this time in our "Knowledge Base" has accumulated enough information for the official dealer of Mitsubishi. That is why, we manage to quickly and permanently save the Pajero from all sorts of malfunctions. If you want to familiarize yourself with the typical Pajero malfunctions, methods of elimination and prevention, below are the links: Pajero Fuel System Repair Pajero of all generations. Minsk Antikor Evacuation We are also engaged in the production of fuel tanks: Our production If you are interested, reviews about us can be found on the Drive2.ru