Lancer X stainless steel neck
We produce stainless steel parts not only for SUVs, but also for passenger cars. This is confirmed by the Filling neck Lancer X. This is the first neck of our production for mitsubishi passenger cars. https://youtu.be/SEE7h60gZsM
Filling neck Lancer X. Service life of the original
It's no secret that the main enemy of the long service life of standard automotive parts is corrosion. Not an exception is the filler neck on the Mitsubishi Lancer 10. According to our observations, after five years, with the active operation of the car in winter conditions, the original Lancer X Neck rots to the holes! Thus, the reason for the presence of water in the fuel tank may be the filling neck. And if water is constantly present in the tank, then problems are not far off. The fuel tank will rust not only from the outside, but also from the inside. Also, the fuel pump injectors will not live long.
Neck Lancer 10. Stainless steel
Our stainless steel fuel neck eliminates the ingress of water and other chemical elements from outside the car. Owners of Mitsubishi Lancer can sleep peacefully. Thanks to the stainless alloy used in the manufacture of the neck, we give a 10-year warranty. And the estimated service life is measured in decades. Thus, replacing the rusty original neck with our stainless steel, you will not return to this procedure in the future! The neck of the Lancer X produced by Pajero-Service-Minsk is an exact copy of the original neck. This means that when you install it, you will not have any problems. You do not have to buy anything, redo or "collective farm".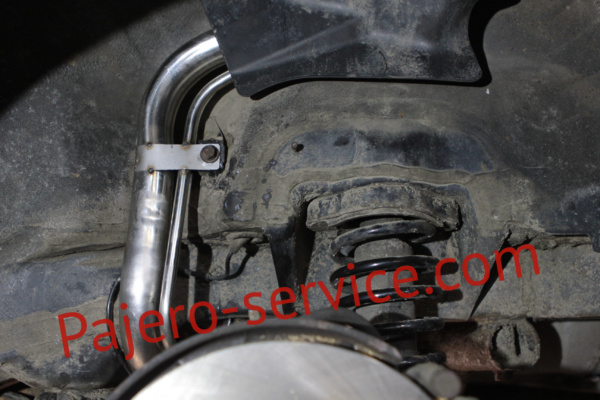 Even an untrained auto mechanic will be able to put our neck. We have replacing the neck with a tenth-generation Mitsubishi Lancer takes 30 minutes. Our product is installed "bolt to bolt" including all protection rubber bands and fill plug.
Buy Neck Lancer X
If you need advice when purchasing Lancer Necks, use the free apps: Viber Message WhatsApp Request or Feedback Form. [contact-form-7 404 "Not Found"] We will try to get back to you as soon as possible. You can also buy a neck in Minsk or from our dealers outside Belarus.  CONTACTS We deliver our parts to any city in Russia, the Baltic States, Ukraine, Kazakhstan with the help of the Transport Company.
Delivery of stainless steel neck
We work with the transport company KIT. To calculate the cost of delivery of the Lancer X Neck, use the form of the transport company KIT.  In the empty cells, fill in the information given below. Then click the calculate button.
Specifications for delivery calculation:
City of departure- Minsk City of receipt- City where it is necessary to make delivery (Moscow Magadan Krasnodar etc.) Dimensions – 90cm / 60cm / 30cm Volume – 0.1 meters cubic weight – 2 kg.
Links to other products of our production
https://pajeroservices.com/remont-toplivnoj-sistemy-padzhero/zalivnaja-gorlovina-padzhero-3-pajero-3/ https://pajeroservices.com/zalivnaja-gorlovina-padzhero-sport/ https://pajeroservices.com/bak-pajero-sport-1-stainless-steel-1998-2007/ https://pajeroservices.com/gorlovina-pajero-2/