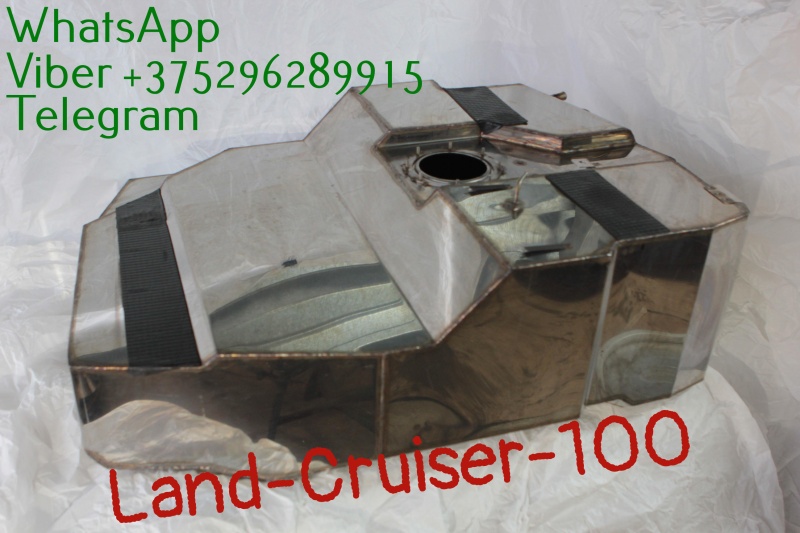 Fuel tank Toyota Land Cruiser 100 increased volume. . This is another item in our product catalog.  This fuel tank, like most of the tanks produced by us, is made of stainless steel. Below you will find the full characteristics of this tank. And now, I would like to say a few words about the car itself. It's no secret that the Toyota Land Cruiser 100 is one of the most beloved SUVs of both ordinary drivers and drivers presenting a little more to the car … For many, the "hundredth cruiser" is a way of life. Which personifies impeccable reliability and durability during operation. That is why it is so loved by travelers, hunters, fishermen, and of course lovers of an active lifestyle. This machine has become a benchmark not only for reliability. It is also loved for its comfort and excellent cross-country ability.  All these factors ensure that the Toyota Land Cruiser 100 will not be scrapped for many years to come.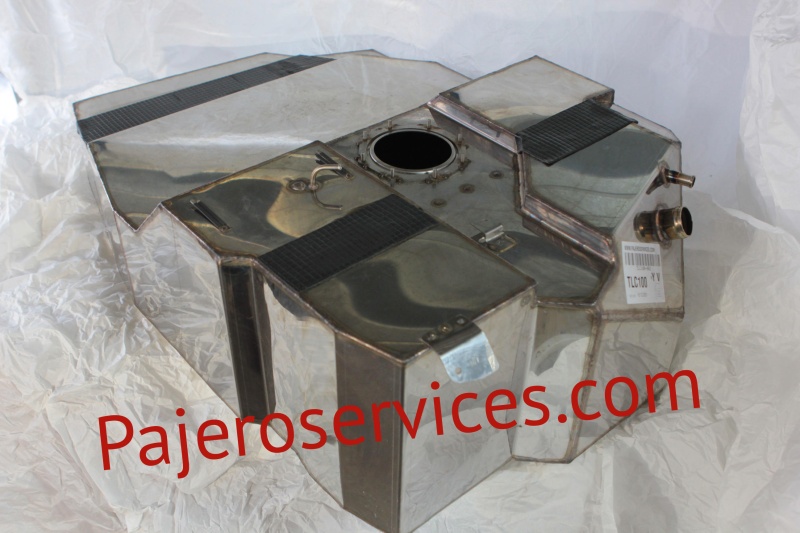 Tank Toyota Land Cruiser 100 under native protection. But as the saying goes – Nothing lasts forever under the moon… And the original fuel tank on the Toyota Land Cruiser 100 is no exception. It is made of the same black sheet metal. Unfortunately, the layer of zinc with which the native tank is covered on both sides can not protect the walls of the tank from corrosion for decades. The tanks on this SUV are leaking. Even if not as fast as on other Japanese cars. Understanding how the owners usually love their Cruzak, we took up the design of the fuel tank with special attention. And that's what we got in metal.
Tank Toyota Land Cruiser 100 Stainless Steel.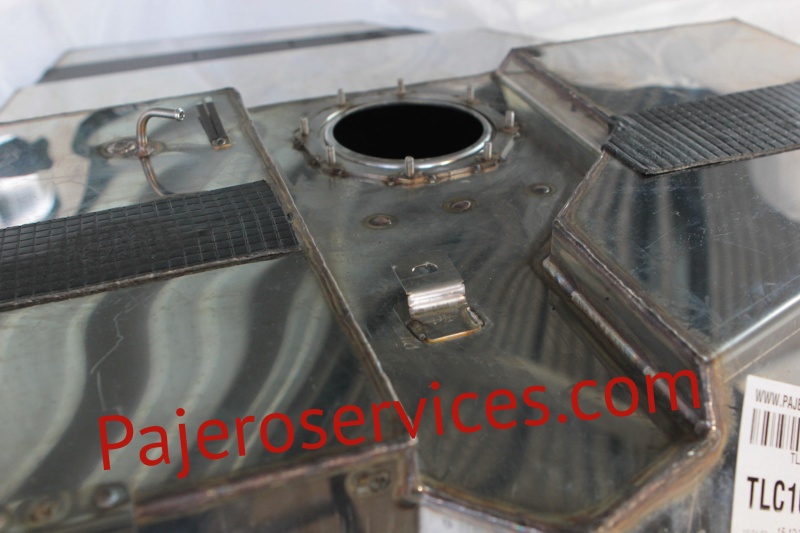 Tank Toyota Land-Cruiser 100 stainless steel. Capacity 108 liters. Instead of original 77001-60450 77001-60690 77001-60510 77001-60660 77001-60880 77001-60720 77001-60860
Technical characteristics of the tank:
Tank Variant

Pro
Material – Stainless steel AISI-304

Mounting – Original tapes.

Native Protection Installation – Yes

Using a native fuel gauge – Yes

Native Neck Installation – Yes

Installation of native intake – Yes

Warranty – About 5 years.

Tank Variant STANDART
Material – Stainless steel AISI-430 (GOST –08Х13)

Montach – Native Ribbons.

Native Protection Installation – Yes

Using a native fuel gauge – Yes

Native Neck Installation – Yes

Installation of native intake – Yes

The original Tank Protection is installed without any changes.

Toyota Land Cruiser 100 tank cross-tank numbers

Cross numbers, Crosses, tank hitting, all this is necessary for the correct selection of our tank on your Land Cruiser 100. Interchangeability of our Tank Land Cruiser 100 stainless steel with original Toyota numbers : 77001-60450 77001-60690 77001-60510 77001-60660 77001-60880 77001-60720 77001-60860

The tank is attached to all native mounts, under the native tank protection instead of the native original Toyota-7700160860

Tank Toyota Land Cruiser 100. Stainless properties.

Our tank in most of its structural elements repeats the original tank from Toyota. Honestly, improving the designs from Toyota is quite difficult). But some points, as we think, we still managed to improve! Most importantly – our Tank Toyota Land Cruiser 100 is several times higher than the operational life of the native tank. And this means that our tank for a hundred, most likely, will outlive the car itself!  This applies to both tank options. Both Standard and Pro.

The cost of delivery of the tank Toyota Land Cruiser 100 to Moscow will cost about 800 ross. Rubles.

Separately, I want to dwell on the alloys from which they are made.  Both alloys perfectly cope with their tasks. Namely, to store fuel without reacting with it thereby affecting its characteristics.

Tank Toyota Land Cruiser 100. Instead of 7700160880 The ABM variant is made of AISI 304 alloy
To simplify, the AISI430 brand is a chromium alloy from which the Standard variant is made. It requires a more attentive attitude both in production and in operation. Thus, for the long-term preservation of the appearance of products made of this stainless steel, it is necessary, seasonal external washing with warm water, as well as the exclusion of surface treatment with iron-containing tools (brushes, screwdrivers, mounts, etc.)

[caption id="" align="alignnone" width="474"] The capacity of the tank toyota-7700160690 is increased due to the width and length of the tank. The ground clearance of the car remained the same.

Brand AISI304 is a chromium-nickel alloy (magnetically neutral). In everyday life, this stainless steel is called food. This stainless steel is not fastidious to operating conditions. It is easier to work with it in production. For the production of the Fuel Tank Toyota Land Cruiser 100 variant Pro we chose this material. However, there is a downside to it. AISI304 is significantly more expensive compared to AISI430. This unfortunately affects the cost of the tank)))

The strength of the alloy tank Dend Cruiser 100 is one and a half times higher than the original Toyota: 77001-60450 77001-60690 77001-60510 77001-60660 77001-60880 77001-60720 77001-60860

Fuel tank Land cruiser 100 of increased volume. Construction.

A relatively small increase in the capacity of our tank of 13 liters is explained by the possibility of installing standard fuel tank protection. For many owners, as our experience shows, this is the key point. But even 100 kilometers of additional power reserve is good! We think so!

The installation of the fuel gauge intake is performed on all native seals. We, almost unchanged, adopted the internal device from the original tank. These are fuel-retaining partitions and the design of the so-called snail. By the way, the native fuel intake is installed without any alterations and adjustments. Also, the readings of the fuel meter are comparable to the native parameters. Thus, you will not have to get used to the readings of the tank needle for a long time. Of course, there is a drain plug in our tank.

[caption id="attachment_3543" align="alignnone" width="474"] Drain plug. Stainless steel M8x1.25

The mounting hole in the body coincides with the position of the fuel intake in the tank. That is – there is access to the intake from the inside of the car. Fastening of the tank is carried out with the help of factory (original fastening tapes). For the rear tape, you need to use a bolt 30mm longer than the native one. Or extend the fastening tape by the same 30 mm. The original Tank Protection is installed without any changes.

All pipes and hoses are used from the original toyota-7700160510

Buck Land Cruiser 100. Production.

Like all our tanks, the Toyota Land Cruiser 100 tank is made of cold-rolled flat products. This guarantees a given wall thickness anywhere. For reference: Thinning the walls of stamped tanks during extraction is one of the reasons for low corrosion stoicity)

Internal structure of the tank. Partitions. Drain plug. Fuel-retaining cup.

In order not to go into details, we will simplify, Welding of tank parts is carried out according to all modern standards. Thanks to piece production. Each of our fuel tanks passes the output quality control:

Leak check. (Pressure pressure testing) Checking the geometry of the tank. (Mounting stand)

Thanks to the long-term and well-established production system, our products have earned respect and even attempts at plagiarism))). We try to ensure that our products are not only fuel tanks, they are more reliable and durable than the original. That's how they say about our Tank on the Mitsubishi Pajero Our tanks are under control from the drawing to the shipment to the client.  Tank Toyota Land Cruiser 100 – Always in stock.  This applies to both tank options. At the end of the description of the design features of the tank. We add that despite the external similarity of the models of SUVs Land Cruiser 100 and Land Cruiser 105. These are two different machines. And the tanks on them are different! Both original and ours.  In order to avoid unnecessary waste of time and money, do not purchase a Tank from Toyota Land Cruiser 100 in order to install it on a Toyota Land Cruiser 105. You can't do it! (different frames)

toyota-7700160660 Installation of the tank is carried out by original tapes.

Buy Tank Land Cruiser 100

All our products displayed on this website, including Tank Toyota Land Cruiser 100 – Always in stock. For consultation, and purchase, please contact us in any convenient way for you:

Welding is performed by the TYG method. 5-year warranty

Delivery of the tank.

Currently, we have the ability to ship our tank by several transport companies. In our opinion, the optimal ratio of price-time-quality for delivery to Russia Kazakhstan is offered by GTD. The term of delivery of the tank Toyota Land Cruiser 100 t will take transportation 3-7 days. Also, our tanks can be sent by such companies as DHL  Energia, SDEK. By default, the tank will be packed in film. But at your request, the tank can be packed in a hard box. As a rule, shipment from the warehouse and dispatch of the tank is made on the day of ordering. In rare cases, within two working days.

When replacing the tank with stainless steel, all fittings are installed from the original toyota-7700160720

Tank on Toyota Land Cruiser 100 variant Standard. Alloy AISI 430