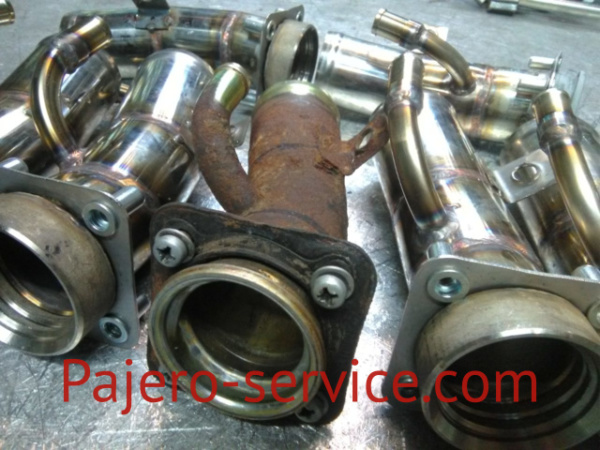 Neck Pajero 2. Original. Stainless steel. Few second-generation Mitsubishi Pajero owners have ever inspected their car for filler neck corrosion. It is for caring owners, in our catalog appeared the position of The Throat Pajero 2. Like most of the parts we produce, this neck is made of stainless steel.
Neck Pajero 2. Original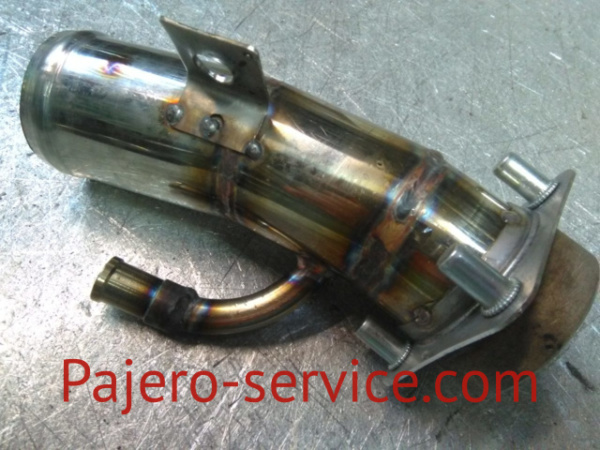 The original neck on the Pajero 2 SUVs is installed inside the wheel arch, and this is exactly the place where dirt and salts live in the car for many years. And it is the years of the car and, accordingly, the filler neck that lead to damage by through corrosion of the latter. In fairness, it is worth saying that the designers of the Pajero 2 tried to minimize the length of the iron part of the neck, thereby trying to reduce possible damage. But, as mentioned above, the iron walls of the original neck rot to holes and it is through these holes, often in the fuel system, dirt and water with which the owners of the SUV are fighting hard.
Neck Pajero 2. Stainless steel
We make the Pajero 2 filler neck out of stainless steel, making our neck an almost eternal part. We give a guarantee for this part for 10 years! regardless of the operating conditions: whether it is an urban Pajero 2 or a "racing shell", the conqueror of real off-road. At the same time, the estimated service life of this part is measured in more than one decade. The neck of our production is an exact copy of the original. This allows you to install it to replace the failed one with a minimum of labor costs. Our neck is installed on the principle of Removed-Put.
Buying Neck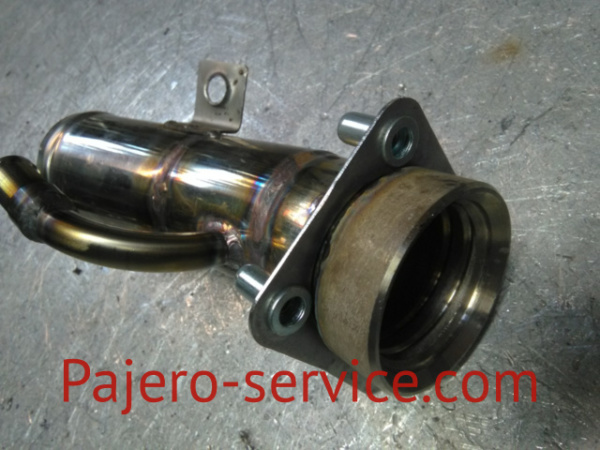 If you want to contact us to purchase our Pajero Neck 2 take advantage of the free services:
or using the contact form. [contact-form-7 404 "Not Found"] We will reply to you as soon as possible. Also you can buy a neck in Minsk any from our partners outside Belarus.  CONTACTS We send orders to any locality in Russia, the Baltic States, Ukraine, Kazakhstan with the help of the Transport Company.
Our stainless steel products
Fuel tank Pajero 2 Stainless steel https://pajeroservices.com/fuel-tank-pajero-2-stainless/ https://pajeroservices.com/stainless-steel/ Filler neck Pajero 3,4 Pajero 3,4 https://pajeroservices.com/neck-pajero-3-4/ Fill neck Pajero sport https://pajeroservices.com/zalivnaja-gorlovina-padzhero-sport/ Neck Lancer X. Stainless steel. https://pajeroservices.com/gorlovina-lancer-x-nerzhavejka/ https://pajeroservices.com/tank-pajero-stainless-steel-photos/