Along with the problem of leaking fuel tanks, owners of SUVs are often faced with the fact that the oil pan of the Pajero Sport 1, L200 diesel engine is leaking. In the line of our stainless steel products appeared oil pan diesel engine 4D56T Pajero Sport1, Mitsubishi L200.
Specifications
Material of manufacture – Stainless steel AISI-430 (GOST -12Х17)
Wall thickness – 1.2 mm
Welding type – TIG (argon arc welding)
Weight – 2 kg
Oil reflective screen – Yes
Mounting flange thickness – 2 mm
Installation on all OEM mounts and hoses – Yes
Warranty – 5 years
Interchangeable with the numbers: md359774 md377661 1200a258 md341418 md328017 md316666 md371263 Suitable for the original on Mitsubishi Pajero Sport1 4D56T Diesel 2500 1996-2006 and Mitsubishi L200 4D56t Diesel 2500 1996-2007
Leaked engine tray Pajero Sport 1, L200, Diesel 4D56T.
It is quite difficult to diagnose an oil pan leak right away due to the lack of direct access to it. Thus, the focus of damage to the pallet by corrosion can reach an impressive size before it is diagnosed by the owner or master. Typically, this happens when oil loss cannot go unnoticed by the owner of the SUV.
Repairing the original pallet is a very time-consuming and unresponsive process. This is due to the fact that the original part consists of many layers of iron, which at the time of repair are well impregnated with machine oil. This makes the welding process difficult.
Engine pan Pajero Sport 1, L200. Advantages
Our oil pan engine Pajero Sport 1, L200 is made of stainless steel grade AISI 430, which has good anti-corrosion properties. While the original is made of sheet iron, subject to corrosion. AISI 430 is a stainless steel with optimal performance and technical performance. Due to its resistance to corrosion and mechanical damage, this alloy is widely used in various industries, including the chemical industry and mechanical engineering.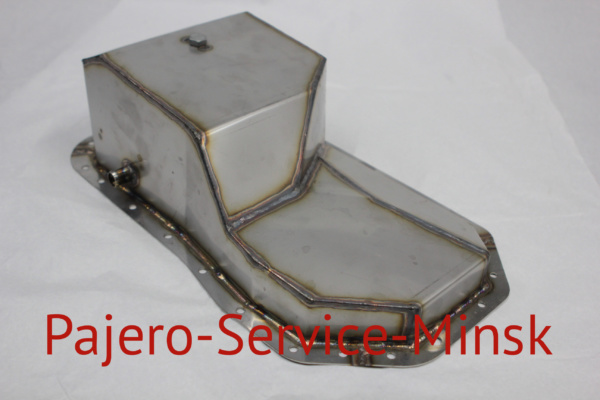 It should be separately noted that the oil pan engine Pajero Sport 1, L200 produced by PajeroServiceMinsk is installed on the standard mounts and hoses. Equipped with an oil-reflecting screen.
We will deliver the engine pan L200, Pajero Sport1 throughout Russia, as well as to Kazakhstan, Ukraine and the Baltic countries, etc. We work with various transport companies. Delivery time in the Central part of Russia is 4-5 days. Delivery time to Moscow is 1-2 days. Calculate the cost of delivery: "transportation calculator"
Buy Pallet Pajero Sport 1, L200, Diesel 4D56T
Order and purchase Engine Tray L200, Pajero Sport1, 4D56T by contacting us through free applications:
If you need advice, you can get it by phone: Call Belarus +375296289915 Call Russia Megafon +79206621612 Contact our representatives in Moscow, St. Petersburg, Kiev and the Baltic States by clicking on the link: CONTACTS
Our products and services
We specialize in the manufacture of spare parts of the fuel system from stainless steel, as well as perform work on anti-corrosion treatment of cars. You can buy products from us, for different models of SUVs: Spare parts made of stainless steel Fuel tank Pajero Sport 1 Filler neck Pajero Sport Pallet engine Pajero To get acquainted with the galleries of our products by clicking on the link: Gallery of tanks