Neck Pajero Sport. Original
Not bypassed the disease of through corrosion and this model from Mitsubishi. The original Neck of the Pajero Sport is painted with black paint on the outside, made of black metal with a zinc coating on the outside and inside. According to the calculations of the designers, apparently, this should have been enough to protect the node from damage by rust. But calculations are one thing, but reality is quite another. Rot the original filler necks on the Pajero Sport to the holes with careless operation of the car by the age of 10-12 years. Neither zinc nor paint saves.  Anti-corrosion protection of the fuel filler neck is not enough for the entire service life of the SUV.  And through the holes formed first, and after a few more years and holes, everything is poured into the fuel tank along which the rear left wheel of the Pajero Sport rolls. And this is water, mud and the very road reagents with which the road pavement services so generously "fertilize" in the winter. Getting inside the fuel tank, this "filth" continues its "dirty work". The result is a leaking Pajero Sport fuel tank.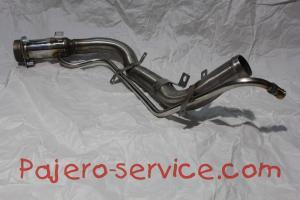 Here's the answer to the question: where is the water and dirt accumulating in the fuel filter. Of course, it is a filter … , but its possibilities are not unlimited.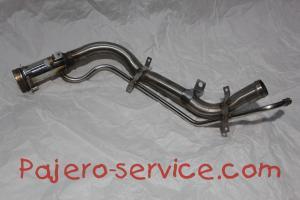 Thus, the problem is not in the quality of the fuel at the gas station, but in the corrosion of the filler neck. The same is the case with the Neck on the Pajero3 Pajero4, the difference is only in the length of the pipe and, accordingly, in the amount of water and other things that fall into the tank. On the Pajero3, more "dirt" gets into the tank.
Neck Pajero Sport. Stainless steel
After all of the above, undoubtedly, the owners of Pajero Sport want to be safe for the future. We are pleased to inform you that we have solved the problem of filling neck on Pajero Sport completely!
There is no need to wait long for the necessary position. Delivery time to Moscow is 1 day. Central Russia 3-4 days.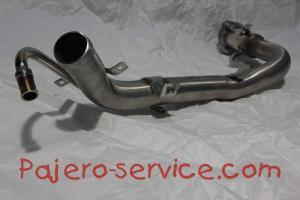 Below are the advantages of the Stainless Steel Filler Neck made in Belarus: Our first Filling Neck Pajero Sport is made of stainless steel with chromium and nickel content, which certainly guarantees the resistance of the unit to corrosion. In fact, it is eternal! Second Our Fuel Filler Neck is an exact copy of the original, which allows you to make an easy and quick replacement on the principle of Removed-Put-Forget, without modifications and alterations. Third On our neck, the original protection is installed and fastened with native pistons. Fourth A native plug is installed on our neck. The cost of our stainless steel neck is lower than the cost of the original pipe from Mitsubishi. Sixth Presence. All stainless steel parts are presented on our website, not only the neck of the Pajero Sport in stock in Minsk. There is no need to wait long for the necessary position. Delivery time to Moscow is 1 day, central Russia 3-4 days. For those who are still in doubt, a link to a third-party resource with reviews of our products. You can contact us and get more information on the CONTACTS page. Or using the application: Viber chat with the seller WhatsApp chat with the seller To read the photos and read the description of our products you can on the page below: Buck Pajero Stainless steel. Gallery of tanks. Fuel Tank Pajero Sport 1 Fuel Tank Pajero 3 Pajero 3 Pajero 4 Pajero 4 Fuel Tank Pajero Sport 2. Fuel tank Pajero 2 Stainless steel Tank Patrol Y60-Y61 https://pajeroservices.com/gorlovina-pajero-2/ In addition, we produce anti-corrosion treatment of cars. Examples of work performed at the link below: Antikor SUVs