All-wheel drive Pajero 3
Many Pajero 3 owners have suffered with this orange light bulb. This light bulb in a normal situation displays the operation of the locking center differential. It is also the crash lamp of the all-wheel drive system! (analogue of Check Engine) If on the scoreboard of the all-wheel drive of your Pajero blinks an orange lamp, and all the other lamps have gone out. So the all-wheel drive Pajero is in emergency mode. Moreover, this does not mean that the transfer case is in rear-wheel drive mode. Here's how lucky. "Razdatka" can "hang" in both full mode and rear mode and what is most dangerous in locked differential mode!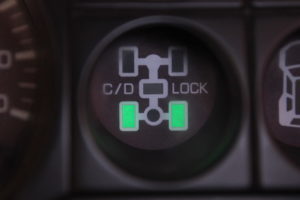 Differential lock mode, whether center or rear cross-axle (round orange lamp between two rectangular greens) does not allow the car to be operated on hard surfaces. In this mode, the transmission works under greater load (especially when cornering). Faster, all parts begin to wear out, from the gearbox to the tires! Not to mention the fact that driving a car on an asphalt road with locked differentials is simply dangerous!
Fortunately, the accident of all-wheel drive Pajero 3 most often occurs at the time of switching 2H 4H or vice versa. This fact allows the owner of the Pajero to get to the service on his own.
We will not go into details and features of how the all-wheel drive on the Pajero 3 is arranged. Let's just say that not every service is able to deal with the cause of the accident, not to mention that it would eliminate it.   Sometimes it comes to replacing the control unit and transfer case.
We are guaranteed to eliminate the crash of the all-wheel drive system in a time not exceeding three hours. What was not the fault. It's just that we understand how it works. )
 CONTACTS